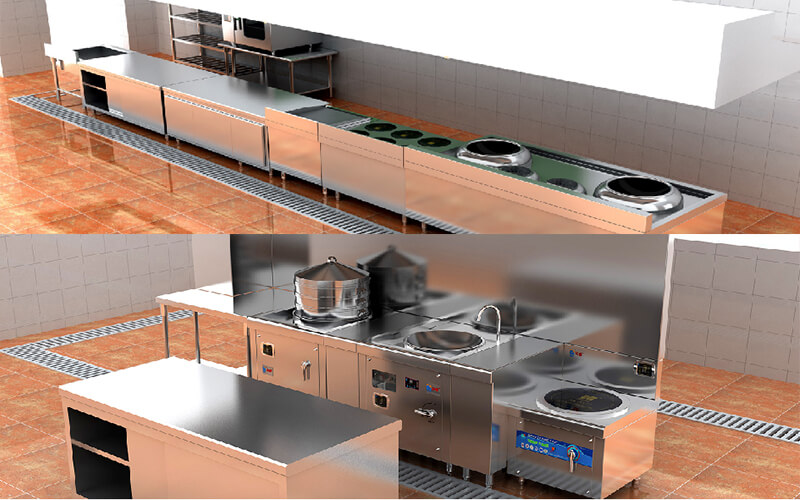 The talk of commercial induction cooking has been around for decades. The growing adoption rate at implementation of commercial induction cooking equipment in catering industry has gain a massive reputation among the public. Notably, James Ramsden, co-proprietor of Pidgin, a Michelin-starred restaurant located in London claimed, he would stick to induction cooking, and never return to gas again (Testerman 2020). However, commercial induction cooking still face difficulties in building public awareness and some misguided opinions with electric cooker which creates avoidance from many customers.
The Theory Behind Induction Cooking
Many public perceptions on induction cookers are identical to electric cookers due to a similar product design. In fact, the mechanic and concept behind both are vastly different same as the performance.
Ignore all the technical theories explanation, put it simply, induction cookers generate heat directly under the pan due to a magnetic field under the ceramic glass, whereas electric cookers must heat-up the ceramic glass first, then transmit the heat to the pan. Induction cookers are 20-25% more efficient than electric cookers for directly heating the pan (Prelusky, 2017). This major difference benefit induction cooking in a faster cooking time, energy-saving, safer surrounding and sustainability.
Below are more advantages of induction cooktops.
Benefits of Using Commercial Induction Cookers
1.Undoubtedly, this is the most eye-catching feature. According to the National Fire Protection Association (2017), America averaged about 7,400 restaurants were set on fire each year along with more than $165 million worth of property damage. Notably, stoves related fire counts for 61% of all kitchen fire.
2.Sustainable resources and development
The emphasis on green energy and sustainability of induction cooking also matches many restaurants' environmental-friendly position and values.
3.Shorten cooking time
Shorten cooking time speeds up chef's meal-preps, satisfied customers and resulted in a faster turn-over rate.
4.Precise temperature control
Allow chefs to precisely managed power output from hard boiling to simmering and perform the Michelin-starred standard.
5.Improve energy efficiency
Energy efficiency directly leads to reduction on operating costs allow restaurants establish competitive advantages over rivalries.
6.Cooler kitchen surrounding
Resulted in a desirable working condition, also improved kitchen ventilation by generating less heat to the ambient environment.
7.Accessible to clean
Compared with gas and electric cooking equipment, the flat surface of the induction cooker after removing the pan is easy to clean at any time without heat radiation.
8.Space&cost savings in portable or multi-functional induction cookers
Ideal for a limited kitchen space, maximising workspace. One device can integrate multiple single-function cooking devices to help catering customers realize the One-button Cooking function and solve their pain points of limited kitchen space.
Hence, these above attractive benefits drawn many restaurant owners and investors considering adopting commercial induction cookers.
Targeted Customers
The commercial induction cookers are suitable for restaurant owners, chefs, franchises, large institution, enterprise, hotel, government office, also wholesaler and distributors of kitchen equipment. Moreover, induction cookers are similar in design compare to electric cookers. Hence, chefs only require little adoption to transfer from electric cooking. In contrast, chefs will be amazed by the speed and precise temperature control of induction cookers. Transferring from gas appliances to induction might take a while to get used to due to the flame-less design. However, the benefits of cooler surrounding workplace and ease of cleaning also improves chef's productivity and performance.
Operating cost between Gas/Electric Cookers
The price differences between gas and electricity usage varies from regions, countries, down to service providers. For instance, commercial induction cookers are extremely popular among the Chinese catering Industry due to the price advantage in electricity. In contrast, gas appliances are considered more economical than electric appliances in Australia. Although, the vast price range might different, and might not provide the most economic benefits in some regions or countries. However, induction adopters would still choose induction over its safer operation, precise temperature control, smart cooking abilities and more.
Notably, according to researcher Sweeney (2014) the thermal efficiency of induction cookers can convert more than 90% of heat whereas 74% for traditional electric and only 40% in gas cooking. Hence, the implementation of induction cooker ensures the maximum thermal efficiency by directly heating under the pan to shorten cooking time.
Current Industry Trends
The western induction cooker market is on the growing phase on the product life cycle. However, on the other end of the world, particularly in the Chinese induction cooking industry, it has the industry's most advanced induction technology and matured market. The current commercial induction industry provides some of the most innovative appliance design include Induction Automatic Stir-fryer, Industrial tilting stove stockpot, Automatic Pasta Boiler, Induction Deep-fryer, Griddles, food steamer, Wok and so forth. Therefore, the Chinese commercial induction industry is pushing innovative ideas to fully adopt chef's cooking habits and the cooking needs of large-scale factory canteens, and gradually replace traditional gas equipment.
Moreover, the implementation of smart menu pre-set and automatic hands-free system in induction cooking further emphasis the intelligent/smart and cost-saving design, industrial appliances for factory canteen, and the vison of adopting traditional chefs' cooking habits. Additionally, manufactures are developing quieter induction cooktops with more precise temperature control and real-time temperature reading. Thus, importing Chinese commercial induction cooker offers competitive advantages in matured technologies and factory-directed price.
Recommendations
One of the main drawbacks of importing commercial induction cookers from China is identifying the credible and capable induction manufacturer or company. Here are some helpful tips to identify a trustworthy brand:
1.Designated R&D Team
2.Experiences in Exporting to Multiple Countries
3.International Recognised CB & UL Certificates
4.Partnership with Well-recognised Enterprises
5.Designated Professional English Customer Support/services
6.Attending Domestic and International Exhibition Show and Contest
Why choose Lestov
Summing up above tips in identifying a credible and capable manufacturer is a difficult task. However, Lestov, a Chinese Induction Manufacturer with 17+ years of experience in commercial induction cooker offers all above requirements.

Despite the current pandemic and the downsizing of other manufacturers in 2020, Lestov increased the research and development budget to $60,000 and developed an induction automatic cooking machine with unique highlights.
Lestov collected export experience in more than 50 countries and regions to ensure the convenience of international transportation. Despite declining demand in the global economic environment, Lestov expanded its business to Costa Rica, Guatemala and Saudi Arabia by 2020 with high-quality commercial induction cookers. Besides, as the largest fast-food chain in Asia, Panda Express Restaurant has purchased some induction equipment and core accessories from Lestov in 2020, the 10th year of its stable cooperation with Lestov.
Moreover, with COVID-19 epidemic under control in china, Lestov will participate in the largest exhibition of Chinese commercial kitchen equipment, such as Guangzhou Hotel Supplies Exhibition and Shanghai Hotel supplies Exhibition. Lestov will also plan to attend the Milan Exhibition in 2021, depending on the global epidemic. (Remark: From 18th to 22th October 2019, Lestov had attended the most important world fair for the Food Service sector, HOST 2019 in Milan - Italy.)
View our site to learn more about Lestov and contact our professional support team to list your specific enquires.
To conclude, the implementation and adoption of Commercial Induction Cooktops are the current trend in catering industry and shaping major restaurants and household across the world. Therefore, it is recommended jump abord the induction cooking train before your competitors gain the competitive advantages.