The competition tour of Lestov commercial induction cooker in 2017
Views: 8 Author: Site Editor Publish Time: 2019-01-26 Origin: Site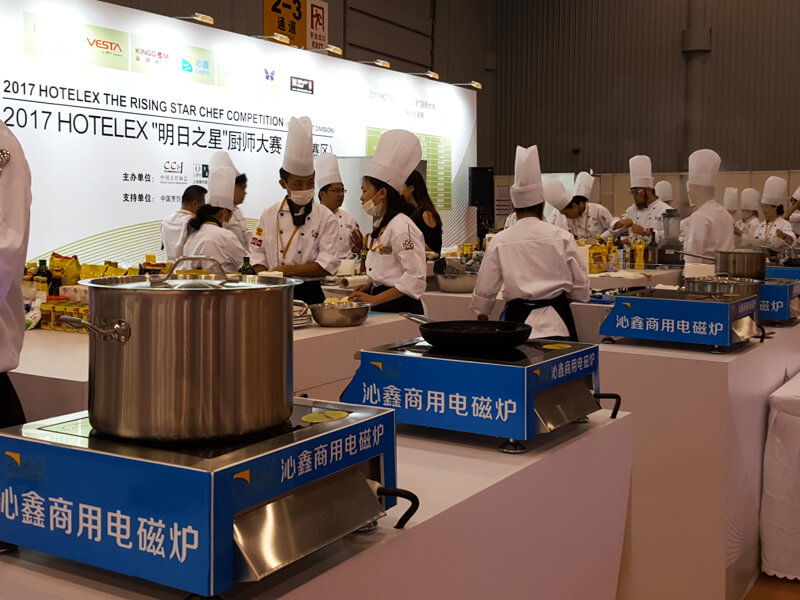 On March 28th, 2017, Lestov commercial induction cooker was on the stage of "2017 HOTELEX THE RISING STAR CHEF COMPETITION", and won the honor of "Unique Designated Competition Equipment" in this competition. Excellent chefs from around the world use commercial induction cookers to cook food. Since then, Qinxin technology Co., Ltd has opened the food tour in 2017.
On May 6th, 2017, as a strategic partner of the China Cuisine Association, Lestov induction cooker was invited to participate in the 11th China Catering Industry Development Conference and the 13th China Catering and Food Expo, and won the honor of "30 Years Outstanding Partner Award".
On June 24th,2017, "The 2nd World Chef Art Festival" hosted by the World Federation of Chinese Catering Industry (Abbreviation: WFCCI) was held in Beijing. The Young Master Chefs Ranking Tournament of WFCCI is one activity of "The 2nd World Chef Art Festival". During the competition, Lestov commercial induction cooker was used by chefs to cook a variety of Chinese cuisine and won the honor of "Best Partnership of Catering Industry.
The Chinese Cuisine World Championships 2017 (Team competition) is the only top international Chinese cooking event that has been certified by the World Association of Chefs. It kicked off on August 30, 2017. Lestov commercial induction cooktop accompanied the world's 19 high-level chefs teams to cook dishes in battlefield. QinXin Technology Co., Ltd. was awarded the certificate of "Official Premium Partner" and "Official Induction Equipment Service Provider".
On October 13, 2017, the 27th China Chefs' Day kicked off at the Chongqing International Convention and Exhibition Center. As the supplier of induction cooker equipment for the China Chef festival, Lestov Commercial Induction Cooking has joined hands with the Chinese Cooking Association to offer a large-scale, high-level and professional industry feast!