Induction cooking: How to choose good commercial kitchen equipment?
Views: 26 Author: Site Editor Publish Time: 2018-11-14 Origin: Site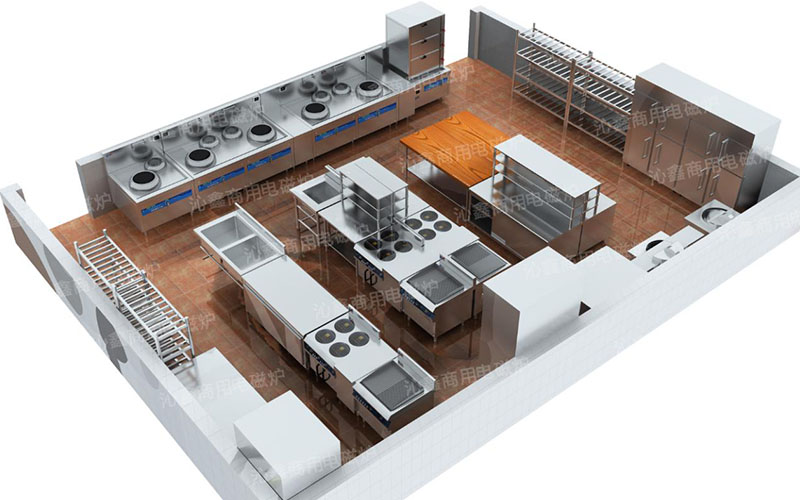 More restaurants and hotels recognize and choose all-electric commercial kitchen equipment--commercial induction cooktop. But how to choose high quality commercial induction cookers? Now, we've sorted out some points to show you why choose Lestov induction cooktop.
At the moment, the commercial Kitchen function area division: Main Operating Room, non-staple food room, dry goods warehouse, curing room, pantry, snack room, cold dishes room, vegetables processing room, meat and aquatic products processing room, garbage room, cutting room, play charge area, cooking area, stewing area, sales&serving area, and dining area .etc.
Let us talk more about that:
1) Hot Kitchen Area: high power induction stove, such as commercial tabletop induction stove, cabinet commercial induction steamer cooker, induction soup cooker, commercial induction griddle, microwave, oven, etc. The following complete kitchen solutions (overall design) come from Smabo induction cooktops, only for your reference.
2) Storage equipment: It is divided into food storage equipment and utensil storage equipment . The food storage includes normal temperature and low temperature equipment: plate shelves, Rice counters, Refrigerator, freezer, cold storage, etc. utensil storage equipment include seasoning cabinet, sale table, all kinds of bottom cabinet, hanging cabinet, Corner Cabinet, multi-functional decoration cabinet, etc.
3) Organization equipment: mainly the organization table, all tools and utensils for organizing, cutting , seasoning, modulation.
4) Ventilation Equipment: Exhaust hood is necessary.
As you may intuit, for commercial induction range, you will need a high powered hood or ventilation system in order to maintain a safe cooking environment. Exhaust Hood is the essential supporting equipment for the kitchen to ensure the cooking functioning properly. To meet environmental standards for kitchen smoke, it must have lampblack purifier. Mainly electrostatic as well as UV purification system. The effluent should pass through a grease trap, separating the solid wastes and the oil from it and the goes the sewer. The kitchen environment is relatively closed, so it a fresh air system is necessary to improve the kitchen working environment and smoke exhaust effect. Therefore, when choosing the exhaust system, we should choose products from factory which has high production technology. Take Dongguan Linfa Ventilation Equipment Co (www.linfa.cn) as an example.
5) Maintenance: This is also one of the main issue that majority of businesses concern about.
A.The housing can not be washed with water , usually we wipe with a wet towel or neutral detergent; B.Should not use sharp objects to mark surfaces and doors.
Among all the above, the most important thing is the cooker's production technology and stainless steel sheet. Good sheet and professional production technology can make the heavy commercial kitchen utensils look very delicate.
Over years, Lestov induction cooktop has earned excellent reputation in the market and have become the long term supplier of many catering chain, schools, factories, government institutions kitchen transformation.