Benefits you need to know about induction cooktops
Views: 29 Author: Site Editor Publish Time: 2019-01-14 Origin: Site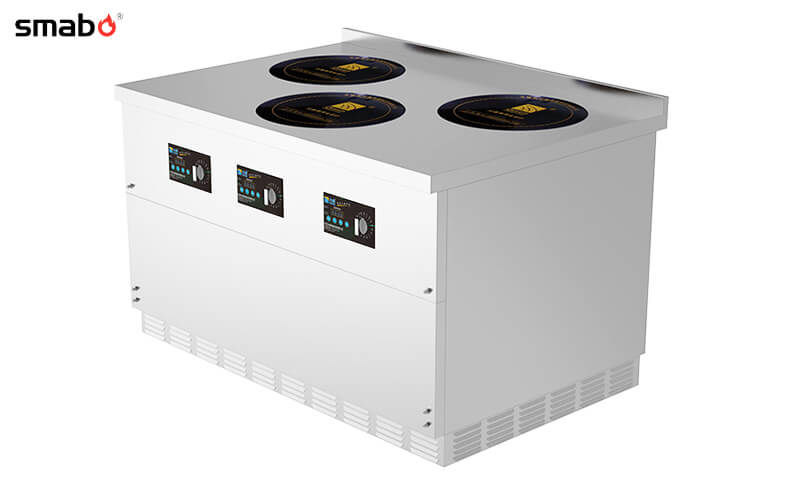 Recently, more visitors are interested in induction cooking, so we detail the benefits of induction technology in this article. Welcome your discussion with us.
Two Benefits: speed and energy efficiency
As quantifiable advantages, the two major benefits of induction cooktops are speed and energy efficiency.
The speed of induction cooktops depend on its wattage rating: with a higher wattage rating, more heat will be generated at the maximum power setting. The heat produced is directly related to the adjustable power levels. Higher power, more electromagnetic energy. With 8 settings of power, an induction cooker has the same effect as turning a gas range.
Compared with gas or electric cooking, energy efficiency of induction cooktops has been one of the main selling points. For instance, it is estimated by the US Department of Energy that 60% energy of a gas flame is wasted unless the kitchen is well ventilated, as the heat will raise the temperature of the air in the kitchen, while induction cooking has an absolute efficiency of 84%.
As a professional manufacturer in China since 2003, the energy efficiency of Lestov commercial induction cooker can reach more 95%. This data comes from our experiments. Here we compare Lestov induction cooker with the gas furnace. See carefully how we tested them: firepower-water boiling test
Compared the time required to heat 3.5 Liters of 18.5℃ water to 100℃. And all tests used the same water and stainless steel pan.
Here are the results in order of speed performance. Times are in minutes and seconds. Cost is calculated in RMB
Time: Smabo induction cooker table top (5000w 220v) = 4:53; Gas range (18 cm diameter) = 4:53
Costs: Smabo induction cooker table top (5000w) = 0.35 RMB; Gas range (18 cm diameter) = 0.96 RMB
In conclusion: Under the same boiling time, 5000w induction cooker can save 63% of cost than gas range. (Warm tip: If you are interested in induction, this model QX-TPM 220V may be your top pick)
Other more subjective Benefits
Before induction technology comes out, gas has always been the king for professional cooks because a fire creates instant heat and reacts quickly. After countless accidents caused by open flame cooking, induction is becoming a fast and safe and greener alternative that is starting to even be favored and chosen in professional kitchens.
Many good reviews come from professional chefs in the cooking competition, such as "Numerical power settings combined with instant response are very addictive, and I find them more accurate", "Induction is the best of both worlds because you can see instant quick reaction of the electromagnetic connection between cooktop and pot, but you don't need to worry about an open flame."
Have you noticed a piece of paper from the picture of the table top plain induction cooker in front? When workers need to test new induction cookers, a newspaper is placed on the surface of induction cooktops and turn on to test the quality. When the firepower-water boiling test is completed, we take the newspaper away and pack the cooker. The cleanup process is so easy! Continuous innovation makes the looks and function of the induction more attractive.
Are these benefits surprised you? In fact, the overall benefit of induction may be even greater. For the gas or electric cooking, the lost ambient heat must in turn be cooled or mechanically removed from the kitchen, which is adding the business costs. Especially in the hot kitchen in Summer, the mood of the chefs is often not very good.
If you are planning to upgrading your kitchen and seeking for a quality manufacturer, suggest you to read this link to know why choose Lestov induction cooktops.

All luck with you! Thanks for your reading.