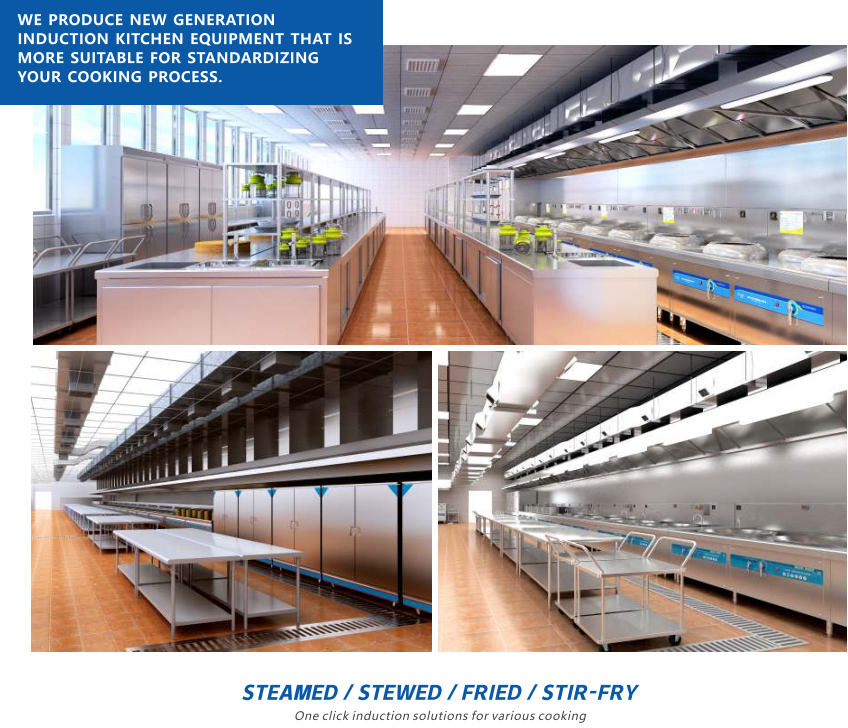 Commercial induction is a big event in modern heating technology history and has become a weather vane for "No open flame cooking" in the commercial kitchen. The significant features that no remaining heat after shutting down and no safety risk have attracted many kitchen appliance dealers, restaurant operators, as well as potential buyers who are ready to replace their gas-fired equipment.
In a survey of kitchen design trends by the National Kitchen and Bath Association in 2019, induction is the most popular type of cooktops, beating out both gas and conventional electric.
There is no doubt that in the hot summer, "Cooking is not to sweat the underwear" is a nice yearning for the chef, especially in China.Many restaurant chefs have already enjoyed the benefits of commercial induction cooktops. But the back of welfare is inseparable from the heating technology of the commercial induction cooker itself.
But still, before you start your business of commercial induction hobs, carefully read more about the principle of commercial induction in our main article.
To understand induction heating is only a small step. For commercial kitchen equipment manufacturers or retailers, a full production process is more in line with their real demands. As a professional factory focused on manufacturing commercial induction cooktops since 2003, we believe that the following content can bring some help to your catering business.
Picture: Manufacturing flow chart of commercial induction cooker
1.R & D design
Unlike traditional inductive products, the design is a must in the formal custom order, whether it's a change in size or an increase on function or use a special plug or private label. Here, the design of each custom cooker is based on your actual situation and our professional advice, aiming at a stable and easy-to-use product. Of course, more investment in R&D and product validation may increase your costs and extend the lead times.
2. Engineering design
If the product parameters and technical requirements on the drawings can meet your needs, we will start production after the order is confirmed. Engineers will enter these parameter data into the computer system and prepare them for automated production by connecting advanced manufacturing equipment.
3. Cutting materials
Here, real product manufacturing begins. A complete stainless steel raw panel is cut into a front, back and side panel by the automatic laser cutting machine, which forms a strong shell for a commercial induction burner.
By matching different molds, a 500-ton hydraulic press can stretch a flat panel into a three-dimensional single panel that can be used for heavy-duty stir-frying stove, small cooking stations, stockpot soup stove, and other products.
In general, commercial induction cooker factory uses stainless steel 201 and 304 material. The 304 material has a greater thickness and greater corrosion resistance than the 201 material. In the face of the complex restaurant kitchen environment, the 304 induction cooker is more popular, which means a higher cost of purchase and use.
4.Bending
The stainless steel sheet 304 is capable of transform (bend) into various shapes and forms in order to fit the requirements of welding and assembling. (Puma Bao Bce Smart) Bending Machine offers a fast and accurate production process in various assembling parts. Thus, an even smooth surface has completed.
5.Welding and Riveting
All Smabo Induction Cookers' frameworks are structured with precise welding and riveting. Furthermore, other than hand-welding, ABB Smart Manipulator also offers a pleasant appearance in welding and significantly improves the efficiency of productivity.
The image below is a semi-finished product from welding/riveting process.
6.Assembling
After assembling the induction cooker frame, the technician began to install the PCB chip module box and the induction coil. These core components form part of the heating function in induction cooking. Below we need to introduce some of the important components:
(1)Induction coil
It converts the high-frequency current output by the PCB chip into the magnetic energy and directly and accurately transmits it to the cookware.
Photo: Induction coil for No blind zone heating
(2)Chip component of induction cooker
The inside of the chip component is made of pure copper wire, which can carry large current; it adopts an independent heat dissipation channel, which is not affected by the hot and humid environment of the kitchen; the fully sealed design of metal PCB box can isolate electromagnetic interference and radiation.
The Control Module is individually separated from the induction coil and chip component to avoid interferences from low and high current. The Control Module send signals to connect Power Switches, Firepower settings, Timer Setting, and Temperature Adjusting, etc. The chip component offers a high-output current that ensures the stability of the whole induction cooker. Most circuit boards provided are developed and designed by Sambo R&D center, and outsource part of the production to the (subordinate) supplier (s) who are advanced in the field. We also need to import and adopt the "Infineon" IGBT produced in Germany.
Photo: PCB Box assembly line
(3)Glass-ceramics and woks
In general, the thickness options for glass-ceramics are 4mm and 6mm, and we will design and configure them according to the actual conditions of the product. Glass-ceramics are more wear-resistant and tougher than ordinary glass. We have done experiments to put the glass-ceramics heated at 900 °C into cold water, and the glass is intact.
There are two types of woks: active and fixed. A fixed wok pot is usually mounted on the furnace structure. The below photo is the high-power heavy-duty large induction wok stove.
7.Testing
After assembled, further performance and stability testing are also required.
8.Cleaning and Packaging
After the test is completed, cleaning and packing are required for the entire cooker. All finished products are packaged into the warehouse and waiting for shipment. The usual packaging methods are wood strip packaging and plywood packaging. For products with lightweight, we also use carton packaging.