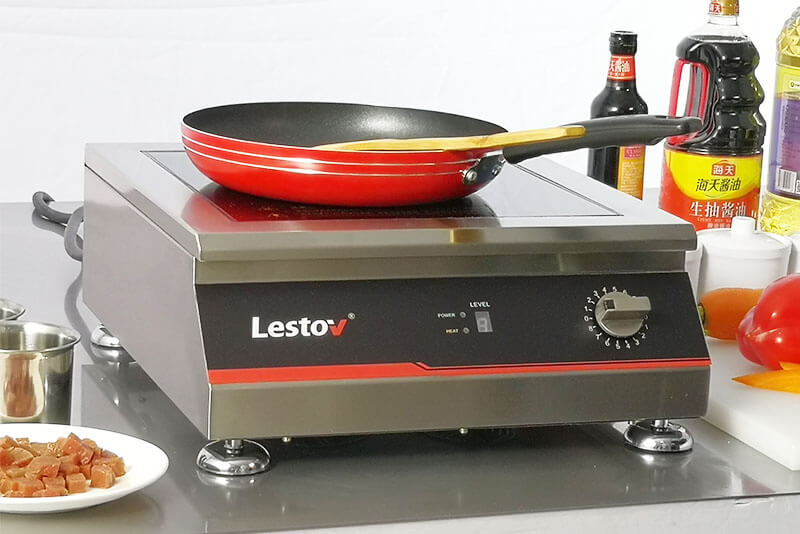 Some senior international trade agents are familiar with international trade procedures and have connections with many commercial induction cooker manufacturers and potential consumers. Many clients are interested in buying quality induction cooker samples from China for resale purposes. Additionally, 3500W commercial countertop induction cookers are the most demanded cooker among all commercial induction cooktops.
Most of them consider finding a suitable price from Chinese suppliers, then resell it at a higher margin in the domestic market would be an easy task and can be done without any trade experiences in China.
Paradoxically, some potential difficulties in international trade have reduced the confidence of importers, such as the reliability of overseas manufacturers, transportation costs beyond the value of the sample goods, and factory MOQ limits for certain cookware. As a result, many distributors avoided resale operations or exited quickly.
This article mainly focuses on how to import 3500W commercial induction cookers from China and explains the potential difficulties you may encounter.
1. What is a sample order?
In international trade, a sample order generally refers to the sample quotation. The quotation includes the actual product value, labor costs, and mold opening cost. Moreover, the sample order is generally pricier than the quantitative order.
Examining product quality is critical in purchasing sample order before starting a new resale business. Additionally, analyzing sample product performance also ensures a wise purchase experience. Furthermore, it guarantees the product quality and minimizing potential risks of transactions. Therefore, it also promotes confidence in repeat purchases in the future.
In China, 3500W countertop induction cookers are for commercial use. For commercial induction hobs manufacturers, small quantities of samples are available, including one piece. However, manufacturers will charge certain customization fees if the customer requires specific customizations.
2. How to look for a premium quality manufacturer?
Sourcing a premium quality manufacturer is a similar process with sourcing a freight forwarding agent on the internet. An online sourcing manufacturer is a less cost-intensive method. However, a direct visit to China is the most intuitive way if time is sufficient. In China, hotel supplies exhibitions held every year can attract many manufacturers and traders' companies. Customers could participate and source suitable induction cookers. Furthermore, some manufacturers might invite potential customers to visit their factories.
Generally speaking, capable manufacturers have multiple B2B platforms, such as Alibaba, Made in China, Global Resources. Moreover, they have built their independent English sites and frequently participate in important domestic and international exhibitions.
These manufacturers do SEO and SEM marketing on Google. Thus, these manufacturers are identifiable by Googling induction cooker's keywords. However, it is crucial to analyses collected information and identifying the original manufacturer with the most channels of marketing, rather than choosing the lowest offering.
The Internet might be a difficult place to determine whether the Chinese Supplier is a direct factory or trading company. Thus, customers could contact website promoters for company information, includes business license, factory examination report (from platforms like Alibaba and Made in China), certifications (ISO9001, ISO14001, and other product certificates) and company address. Moreover, be aware of the consistent use of the company's name.
WeChat, just like any other communication apps, it offers an effective communication channel by combining with Whatsapp and Skype's features. Most importantly, customers could minimize potential risks by using video calls to inspect the manufacturing process and attention to details.
We expect a premium supplier contains the following characteristics:
1)Reasonable Price-Performance Ratio
2)Include its production line, sales team, R&D team, and after-sales support.
3)Experienced international sales team and emphasis on efficient communication.
4)Accountable and target problem-solving ability.
3. How to ship sample order from China?
Shipping sample order can be distressful for consumers, especially for valuable induction cookers and urgent deliveries. Customers need to communicate with the manufacturer to minimize product packaging and save shipping costs (shipping fees determined by product size and weight).
Being made of stainless steel, the lowest NET Weigh is up to 6kg for a 3500W commercial countertop induction cooker, which means that express delivery is the only and expensive mode of transportation.
Some customers might want to increase their sample order to 1~2 CBM to maximize shipping capacity and minimize transportation costs. They thought it was the cheapest way, but eventually, they found that the whole import and export process was complicated and expensive. Typically, sea freight is more cost-effective when shipment exceeds 2~3CBM. Certainly, if the sample order exceeds 15~20CBM, 20GP container would be more cost-effective and precise. For the majority of reselling businesses, it is not recommended for new buyers to purchase large sample orders.
Under no-power connection conditions, the 3500w tabletop induction cooker is non-magnetic. Shipped by Air express, you have to pick it up at the airport and deal with import procedures. Under no-power connection conditions, the 3500w tabletop induction cooker is non-magnetic. Shipped by Air express, you have to pick it up at the airport and deal with import procedures. Furthermore, extra domestic shipping fees can be costly when the airport is distant from the buyers.
Conclusion
3500W countertop induction cooktops are a great entry point for ordering an induction sample from China. Most importantly, avoid rush decisions and the lowest offerings. Moreover, we recommend in-experienced customers to gather and analyze manufactures' information before ordering a sample.
We hope you can benefit from this article. Are you ready to begin your induction sample orders? Let us hear your thoughts.