7 Key Elements for Developing a Commercial Kitchen
Views: 90 Author: Site Editor Publish Time: 2020-04-15 Origin: Site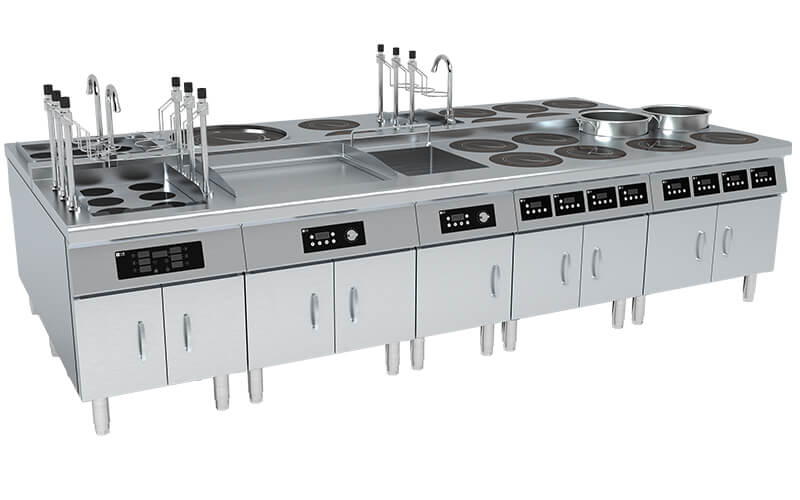 Starting a restaurant seems to be a lucrative idea. However, like any other business, the catering business is demanding. It needs a lot of planning, calculations, and foresight. The most important aspect of a restaurant business is to develop a commercial kitchen. Here are a few key elements for developing a commercial kitchen.
1. Cooking Area
The cooking area is an essential part of a commercial kitchen as the actual food heating will be done here. Thus, this area will contain all the equipment, including commercial induction cookers, grills, oven, tandoor, and other tools required for cooking. These should be positioned correctly in the cooking area. A case in point is the Six Burners Commercial Induction Range with Glass Ceramic from SMABO. It features a 360-degree knob switch, which makes the cooking operation convenient. Besides, its anti-slip foot design can prevent shifiting and rusting. Also, the perfect safety features such as an empty pan cut off and three hours auto-shutoff and over or low voltage protection, overheat protection, and over current protection.
2. Preparation Area
Just like the cooking area, the preparation area is also essential, and there should be one in your commercial kitchen. If you try to accommodate prepping in the commercial induction cooking space, it's sure to create a mess due to lack of space. Each chef needs to do their job correctly.
3. Storage Area
All foods have different storage needs. While some foods need to be stored at cold temperatures, others need warm or hot temperatures. Besides, some need just dry spaces. Thus, it's better to keep the storage area and cold storage area separate from each other. Your storage area should be well-equipped to store all dry goods that are usually bought in bulk, such as flour, rice, lentils, sugar, oils, spice powders, and whole spices. This space should be totally free from moisture, rodents, and other pests. It should be adjacent to your commercial induction cooker to access various items easily when required.
4. Cold Storage
Cold storage area is as significant as the regular storage space. Restaurants continuously need cold rooms and deep freezers to store perishables like frozen foods, dairy, seafood, and meat. The size of the cold storage will depend on the size of your restaurant. The cold storage will also need regular maintenance.
5. Cleaning Area
The cleaning area should be allotted the largest space in a restaurant to let the workflow go on smoothly. It should be able to handle the washing and cleaning of large cooking vessels, as well as delicate crockery, cutlery, and other utensils. This area should be divided into two. One for keeping used pots, pans, crockery, cutlery and other utensils for washing. Since there will be a lot of moisture and flow of water here, it should be away from your commercial induction kitchen and storage area.
6. Pantry Area
A pantry area is to keep ready-to-serve foods, beverages, etc., which is also a critical area of a kitchen. The head chef should ideally decide to keep the foods and dishes here.
7. Staff Area
An adequately sized area should be allotted to staff where there should be toilets, a room where they can change their uniforms and lockers to keep their personal belongings. This room should be comfortable enough where chefs can escape from the heat of the commercial induction kitchen.
So, have you started planning a layout of your commercial kitchen? If you are looking for burners for a commercial kitchen, Lestov can provide the best selection.