Introduction to Chinese Catering Cuisine: Lu cuisine
Views: 16 Author: Site Editor Publish Time: 2018-11-28 Origin: Site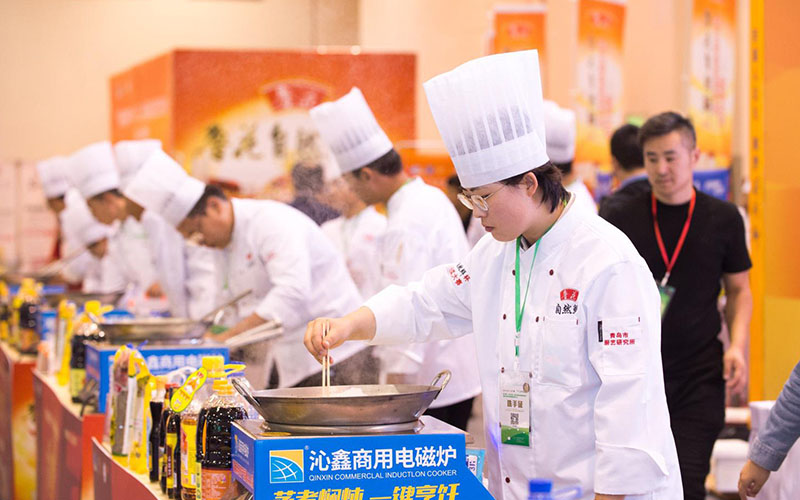 The 2nd National Popular Cuisine Cooking Competition--Lu Cuisine Festival was successfully held in Qingdao.
The event was guided by the China Cuisine Association's Famous Chef Professional Committee, and Lestov Induction Cooktop ("Smabo" Brand is registered by "Qinxin Technology" in China mainland) became its strategic partner. In order to create a national Lu cuisine popular dish, and innovate Qilu flavor Cuisine as the content of the chef competition. On the event, all chefs used countertop induction wok cooker to cook food.
▲Cooking Competition Scene
【Database】:
Lu Cai, which originated from Qi-lu in Shandong Province, is the only self-styled cuisine among the four traditional Chinese cuisines. It is the oldest, most technically and most difficult cuisine. Lu cuisine is graceful, atmospheric, peaceful, and healthy. Classic dishes include sweet and sour yellow river squid, nine-turn large intestine, oil-fired double-crunchy, mullet egg soup and so on.
As an Official Strategic Partner of China Cuisine Association, Lestov induction cooktops have always spared no effort in promoting the development and progress of Chinese cooking industry. Over 15 years, Lestov induction cooktop has accumulated rich experience in product research, quality and service, providing a complete professional custom kitchen solutions for many first-line and chain restaurants.
▲China Cuisine 30 years best partner
The fire gets water to moisten, and the water gets hot to warm. Behind the art of water and fire is the harmony between man and nature.
As a new generation of high-tech cooking appliances, the use of secondary energy, with multiple controllable safety protection of induction heating and cooking, completely eliminates the safety hazards such as gas leakage of traditional stoves. Through the control of cooking temperature and time, precise control of the heat is achieved, and it is easy to standardize the cooking dishes. Chinese food emphasizes the five-tone harmony, and the core lies in harmony.
Governing big countries like cooking fresh. The way of the device, the way of the people, is also the way of heaven and earth.