Quality Distributor: L&T RESTAURANT EQUIPMENT
Views: 535 Author: Site Editor Publish Time: 2018-08-08 Origin: Site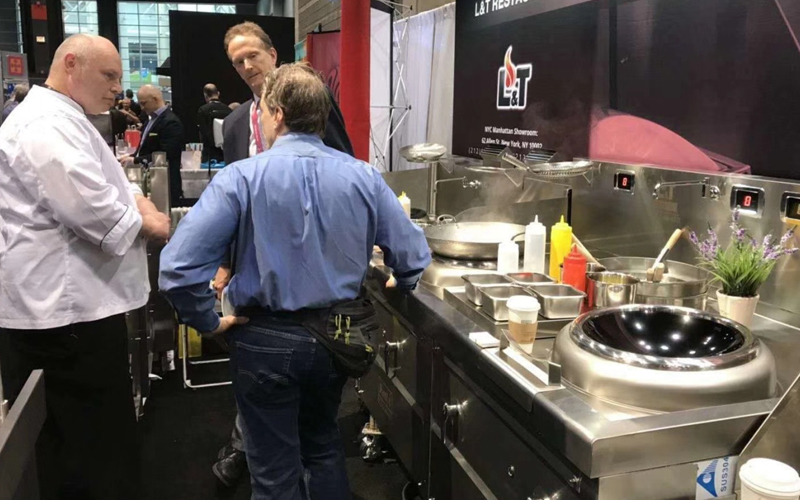 Fate is a wonderful thing. In March 2017, Mr. Pan from L&T Restaurant Equipment Supply Inc. visited the exhibition hall of Lestov Induction Cookers at the Shanghai Exhibition and had a deep impression on Lestov induction products.
After learning that we are a professional China induction cooker manufacturer on Catering / Restaurant Custom Solutions, he negotiated an OEM cooperation program with us and visited our factory.
After our engineers had communicated with him several times, we confirmed the production drawings and arranged his order. When he received our Chinese induction stove with "PANTIN" logo,he gave us very high praise.
At the NRA (National Restaurant Association) show in 2018, many customers consulted PANDIN induction cookers on site. Mr. Pan provide us some photos and video and some US customer concerns. He also send us an invitation and hope that more 208v 3 Phase induction cooktop can be applied in America market.
We are very grateful to Mr. Pan for his valuable market information and suggestions.

In March 2018, we have designated this year as "Quality Year", which means that the quality control of products will be more strict. Qinxin company has also confirmed the development plan for foreign trade: foreign exhibitions are included in the development, such as USA Exhibition and Milan Exhibition.
Lestov induction cookers from Qinxin company are designed specifically for consumers in the global market.